Best Places to Visit in Turkey
Best Places to Visit in Turkey
Best Places to Visit in Turkey
Turkey has served as a gateway between Europe and Asia for thousands of years, with a terrain that includes beaches and high mountains. Turkey has become a wonderfully varied country as a result of its role as a crossroads for commerce and cultural exchange.
Turkey's delicious culinary environment, as well as the many religious structures and ancient sites. Bear witness to the depth of culture and breadth of influences that have left their imprint.
Staying at boutique hotels under caverns and flying in hot air balloons above the mystical scenery of Cappadocia, roaming through the Greco-Roman world in Ephesus. Or just soaking up the sun in luxurious beach resorts along the Aegean Sea are all possibilities. Here are some of the top spots in Turkey to visit:
SİDE – ANTALYA
Side is a lovely town with classic ruins and contemporary day resorts overlooking sandy white beaches. It was a key harbor in ancient Pamphylia and was inhabited by Alexander the Great in the 4th century BC.
Side, located on a tiny peninsula on Turkey's Mediterranean coast in the Antalya Province, provides superb scenery, nightlife, and outdoor activity.
An excavated complex of ancient Hellenistic and Roman ruins, including the remains of a massive amphitheater, an agora, public baths, marble columns. And several temples is the main attraction of Side.
Roman baths have been repaired and are now home to a museum with a collection of Roman statues and antiquities. The Temple of Apollo, which overlooks the shore, is a stunning sight, especially after sunset.
EPHESUS – İZMİR
Ephesus ruins is the largest ancient city in Rome, famous for the Temple of Artemis, one of the 7 wonders of the ancient world. Ephesus ruins is one of the best places to visit in Turkey.
Temple of Artemis is without a doubt Ephesus' most famous building. Artemis temple was once the world's biggest, demonstrating the city of Ephesus' importance.
The temple was substantially destroyed about the fifth century, although tours of the remnants are still available.
CAPPADOCİA – NEVŞEHİR
Composed of wind, rain and other physical conditions, Cappadocia is a completely mystical city. In this cone type, which was formed under natural conditions, the remains were carved and houses were built inside.
While majority of Cappadocia is in the province of Nevsehir, the region's main towns include Ürgüp, Göreme, Avanos, Ortahisar, and Mustafapasa.
Many of these cities include hotels, restaurants, and nightlife choices, as well as attractions including museums, underground tunnels, old Greek villages, and handcraft markets. Some of the caverns in the area are motels that cater to tourists.
You can watch these mystical underground cities and natural cones in Cappadocia with a zeppelin. You can also ride horses and do ATV tours.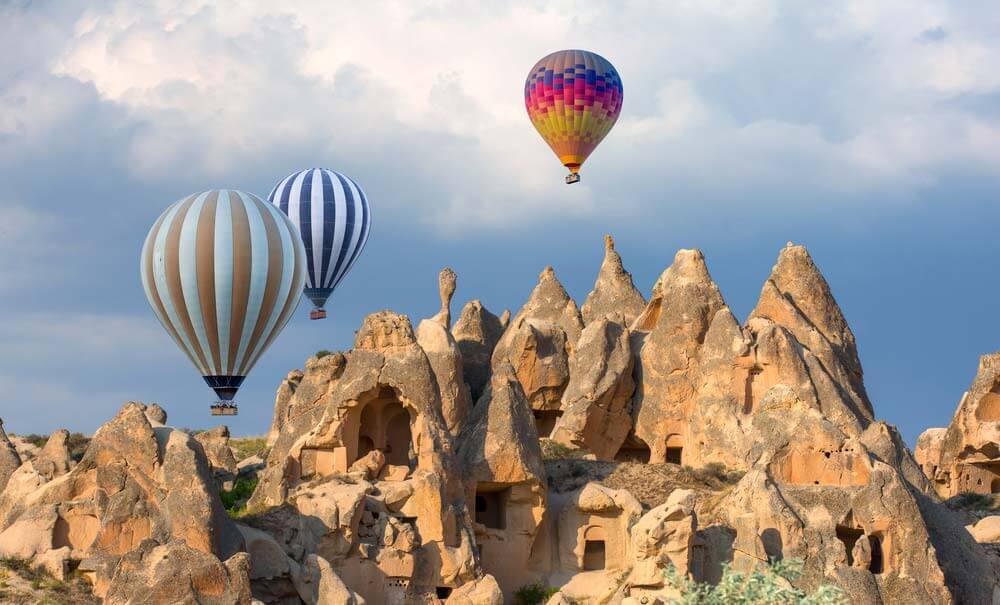 COTTON CASTLE – PAMUKKALE
Forget all the whites you know. Cotton Castle is one of the best places to visit in Turkey. It fascinates the visitors thanks to its glamorous white clay, which gives it beauty.
At the ruins just above Cotton Castle, you can enter the Cleopatra pool and drink soda water.
GÖBEKLİTEPE
Göbeklitepe was constructed 7,500 years before the Egyptian pyramids. It provides excellent discoveries regarding the early evidence of the shift to established life.
Because the first remains of wheat, which represents established life and agriculture, were discovered in Göbeklitepe. Göbeklitepe, the first known center of devotion, had an impact on religious history.
Göbeklitepe, whose mysteries have been revealed in recent history, is one of the best places to visit in Turkey.
You can also read this article to get information about the best beaches in Turkey.